Our sink carts are built to compliment your espresso and food service carts made with the same quality standards are all of our other lines.
Our sink carts are versatile, often multi use, with a fully self contained plumbing system which is the most refined in the industry. They are built to last decades and retain their physical appeal throughout. The sinks themselves are mainstream brands and NSF/CSA commercially rated, along with the plumbing components and lines. We do not use modified food service pans for our sinks in our carts as some times sold from other sellers.
3 Compartment sink
Self contained 4' version EO-4S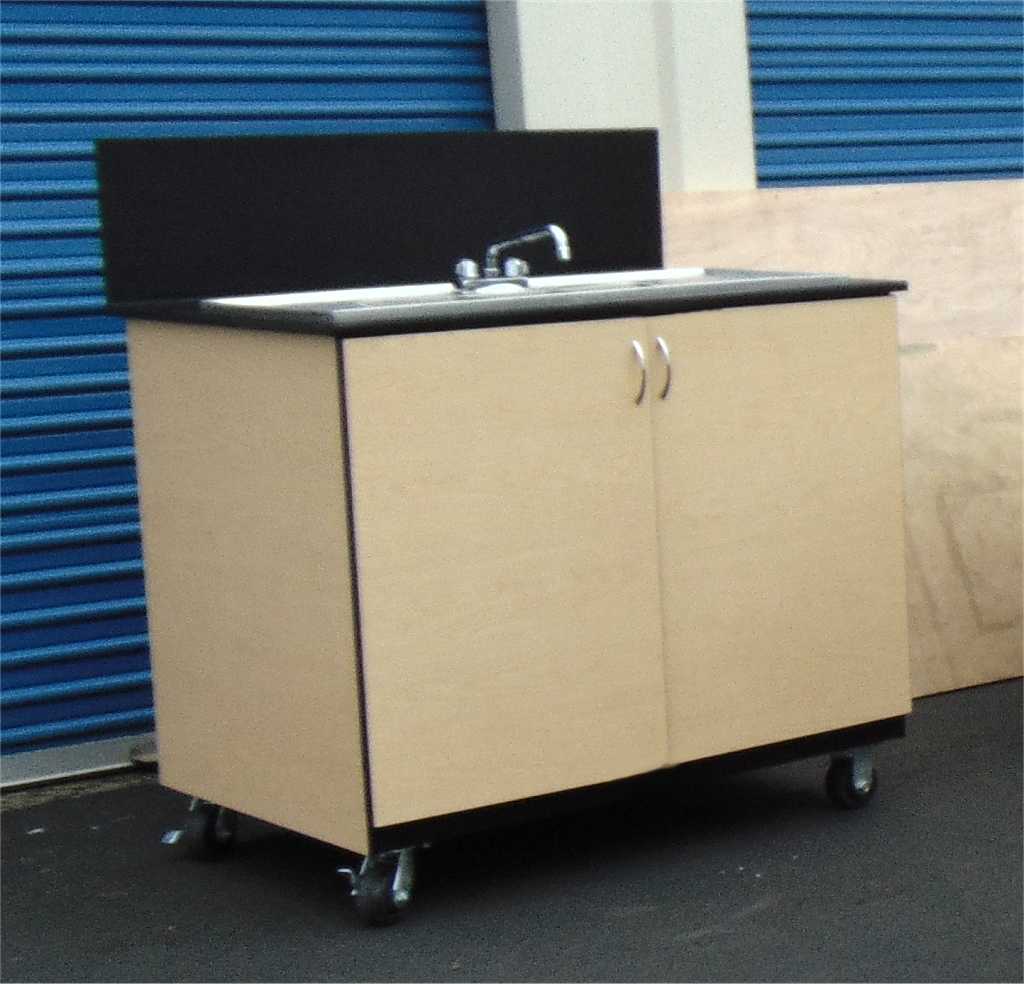 This is a serious, robust work station that can handle extensive ware-washing.

Fully self contained plumbing with removable fresh and waste water tanks gives it extra portability along with being able to set up your food service and espresso concession in areas that would be deemed impossible to do, or impractical upon.

Standard features but not limited to:
Deep well stainless steel commercial NSF sink with drainboards.

2.5 Gallon Water heater.

Flo-Jet Water bottle pump.

5 Gallons fresh water bottle/tank.

7 Gallons waste water tank.

Hardwood ply and steel construction.

Surfaced in the best laminates, Wilsonart/Formica/etc.

Quality rubber bumper and T-Molding edges.

Easy to move with 3200 pound rated wheels.

All components, commercial NSF and UL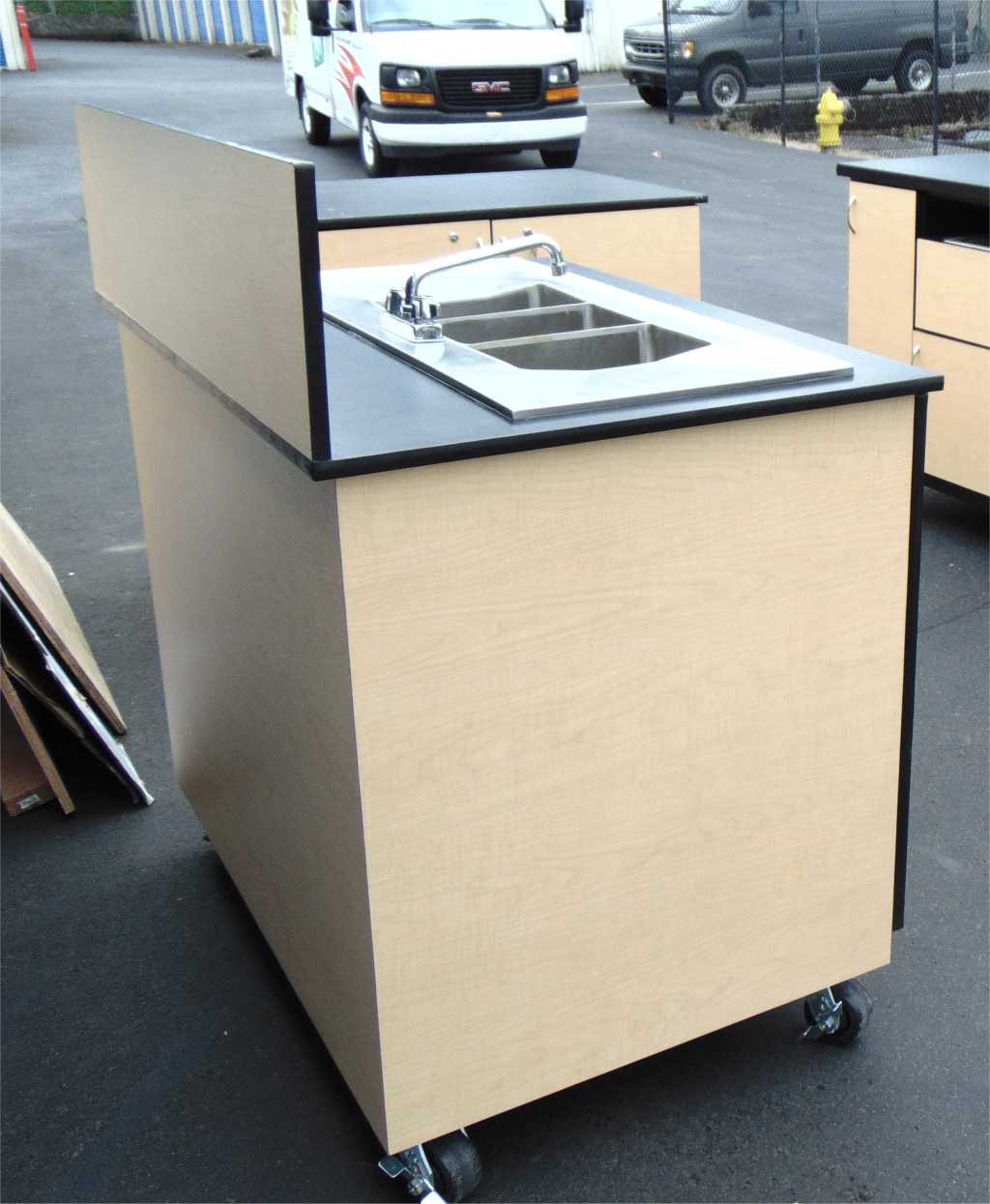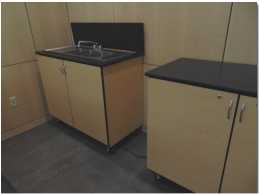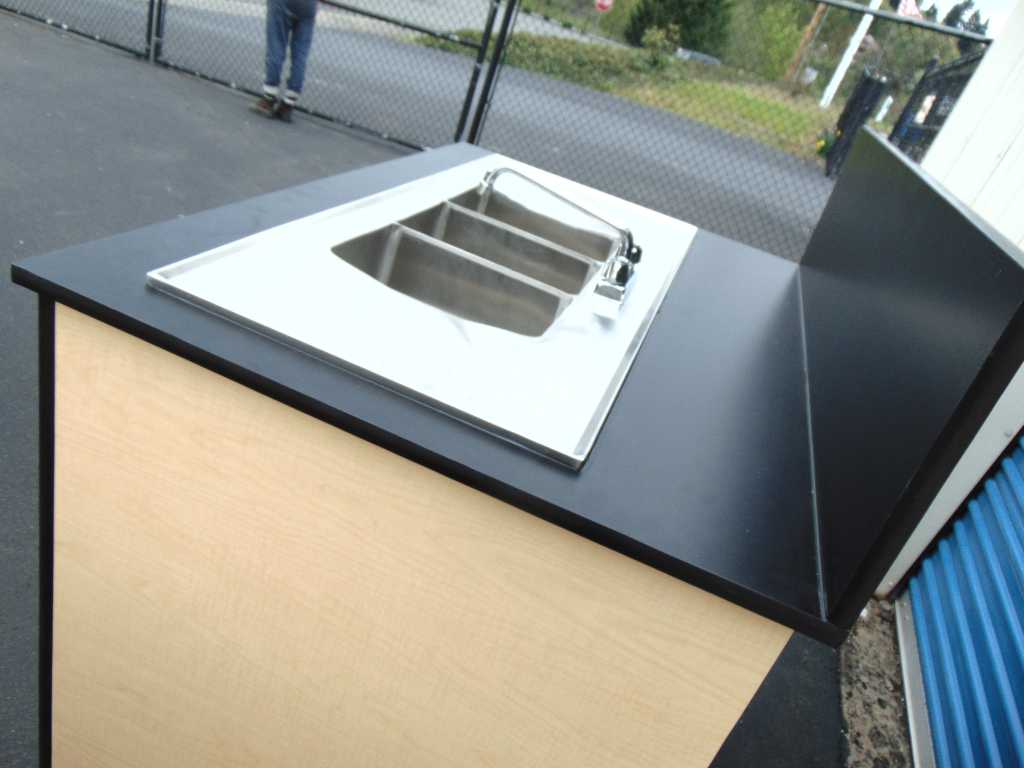 The Square Base 3 compartment slide out sink cart, is also another popular option that has some added features that are appealing.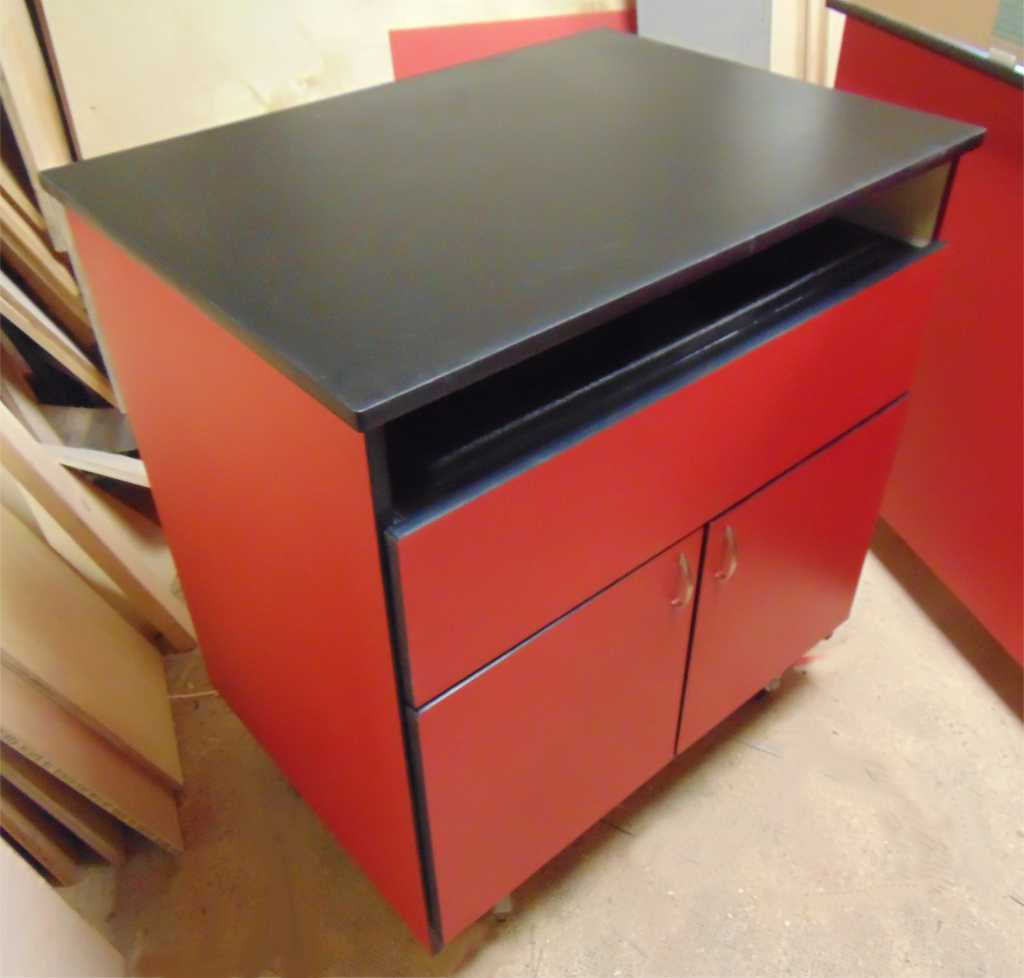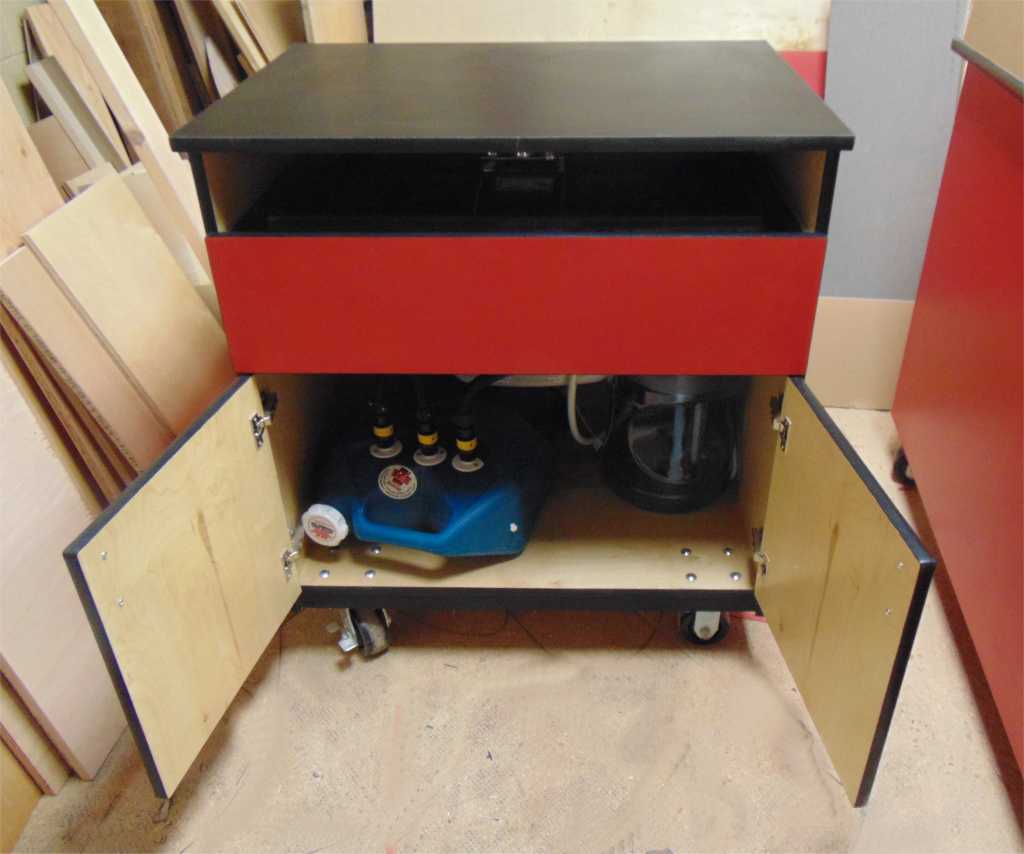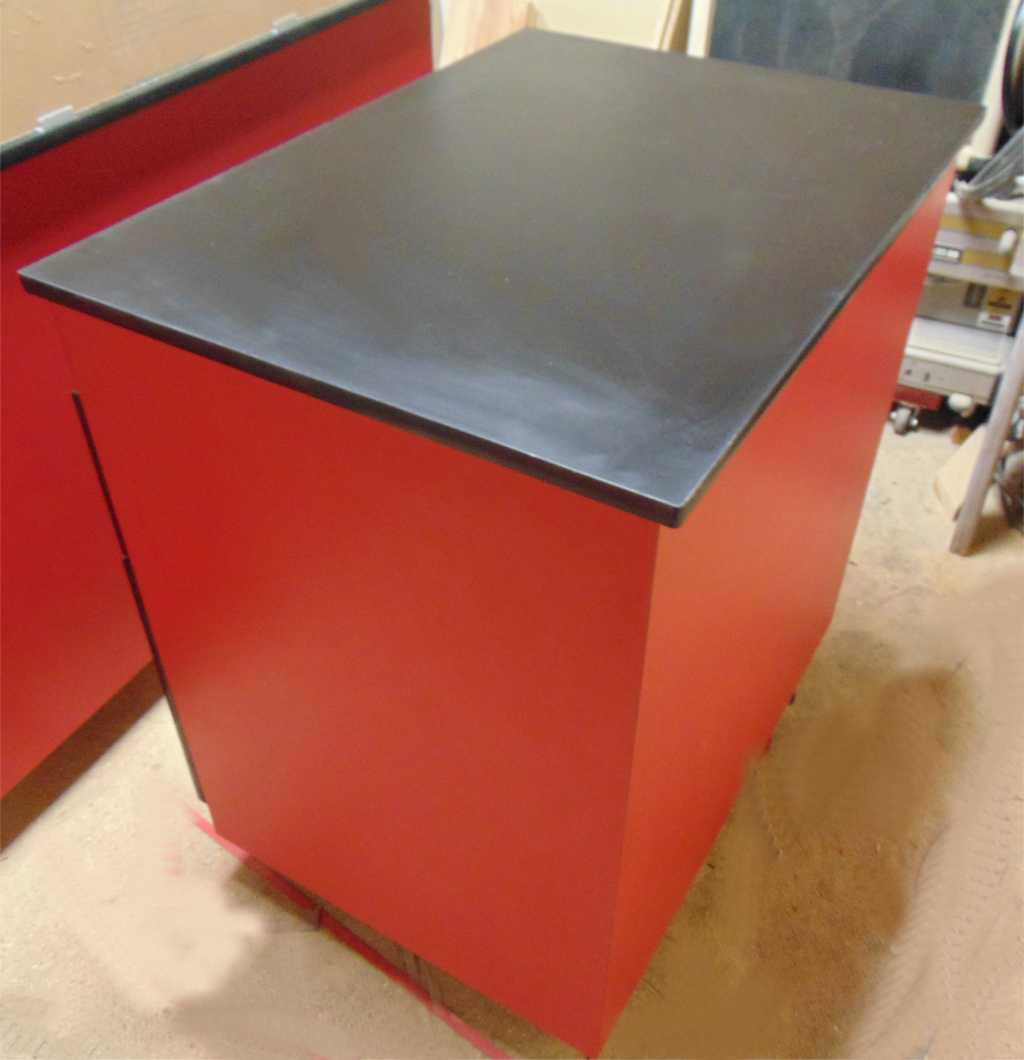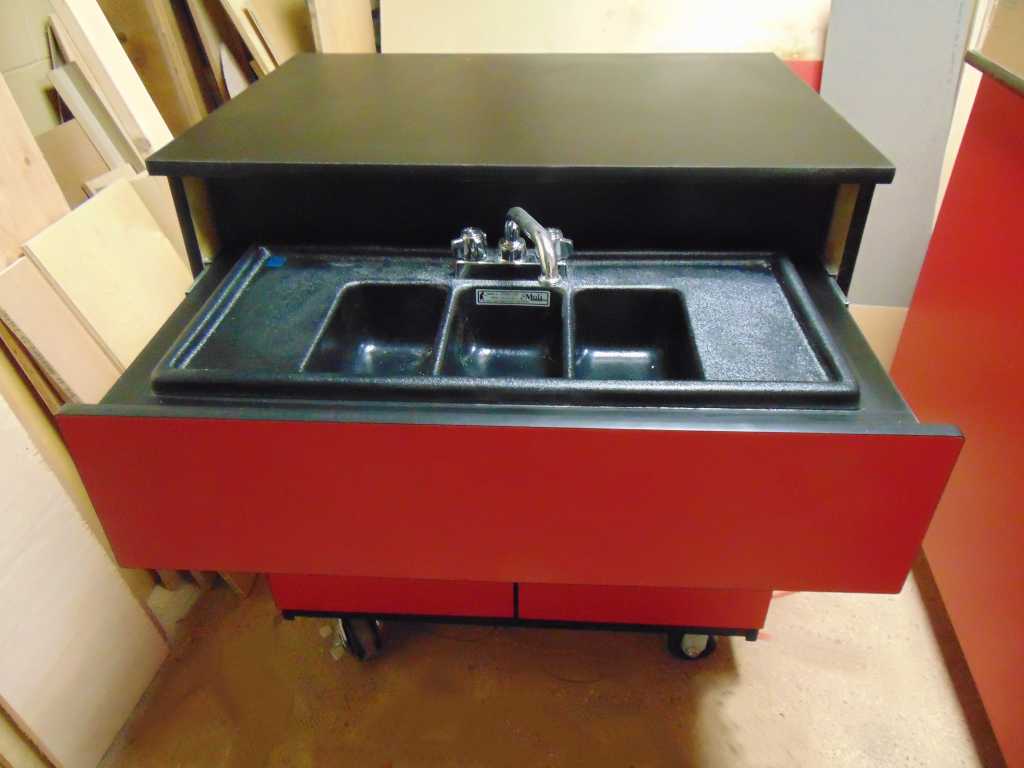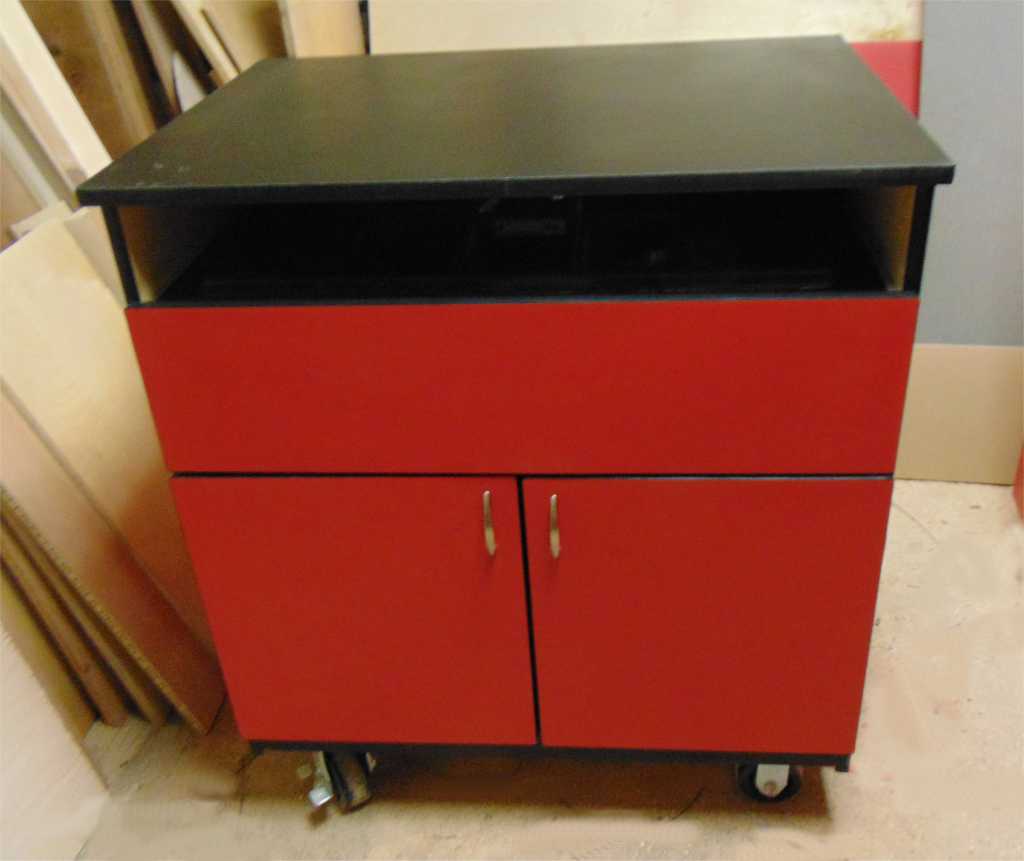 The Square base 3 compartment sink cart as shown above, along with the
        Round Base 3 compartment sink cart below use the same plumbing compliment. 
        different styles, yet unique look and function.  Custom
        sink carts are more then welcomed and built upon our rock solid decades lasting
        platforms!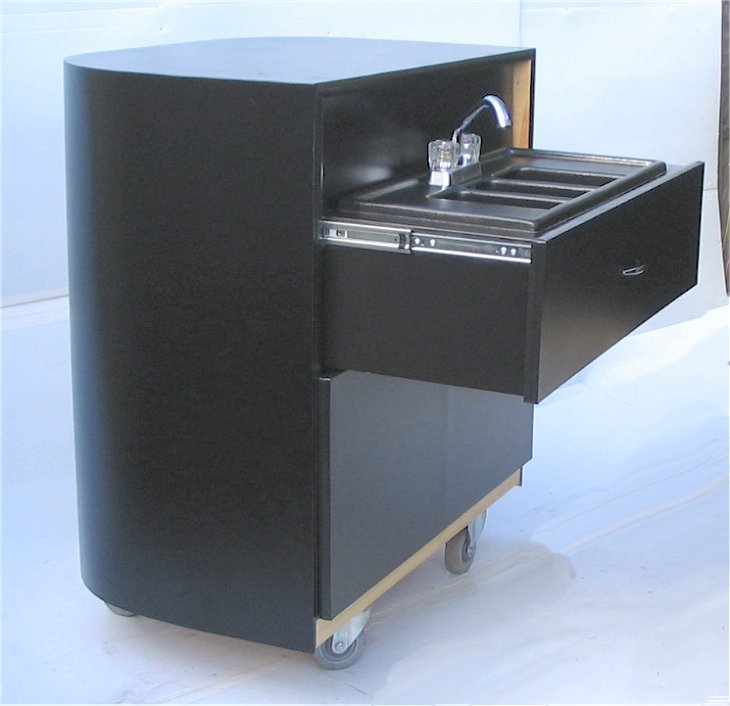 3 compartment Base sink cart
At a 3' by 2' package, the slide out fully self contained 3 compartment sink cart was designed to compliment any kiosk as well as supplement health codes to keep your utensils sanitary:
Features:
Durable construction

Slide out Moli 3 compartment sink

7 gallon waste water tank

*Flo-Jet water bottle pump

*2.5 gallon water heater

110v Performance surge protector
Dimensions:
2' Depth
3' Length
41" Height
For those that are desiring to use this as a catering cart, we have revised this design to accommodate over counter equipment. The depth has also been increased to 30". You will not notice a dramatic difference in it's appearance, but we felt it necessary to post photo's of the revisions regardless.
For those that need a self contained hand washing station. This hand sink cart is perfect for adding onto your mobile concession and can double as a catering or side cart. As with our slide out 3 compartment sink carts, it includes the self contained plumbing systems.