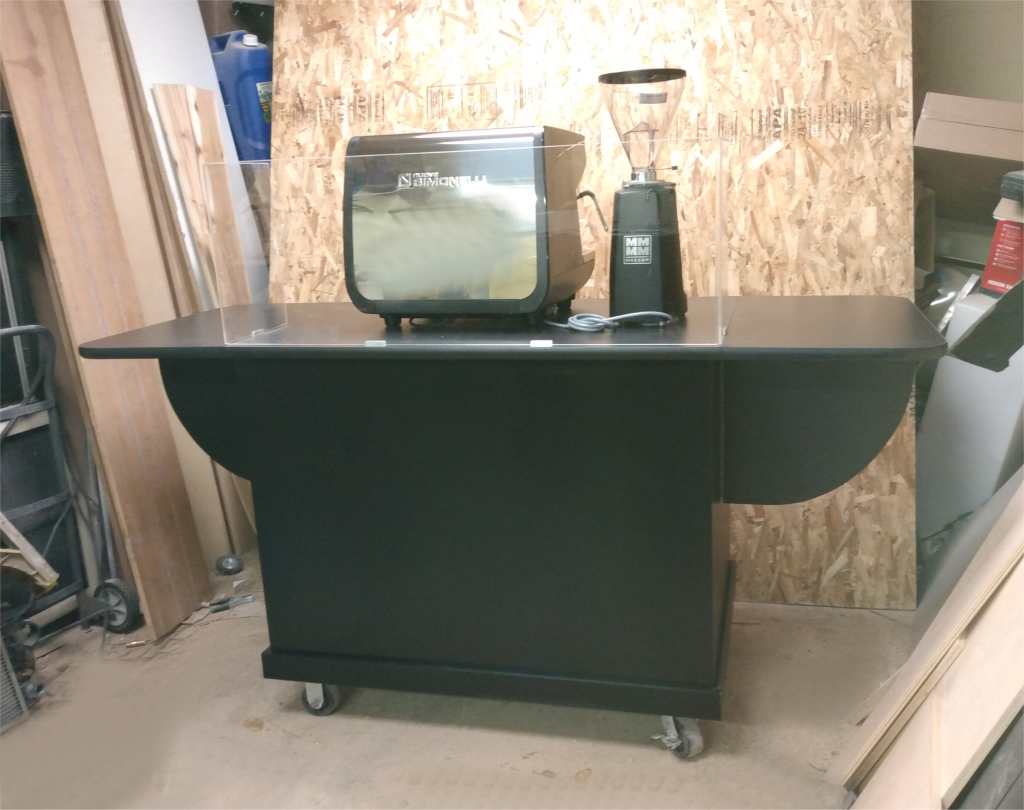 -

Espresso
Carts

- Grinders

- Prices


Espresso Outfitters accommodates much more then coffee based operations. Most if not all of our lines can be used for a wide range of food and beverage services.
Classic style with double pass through refrigerator.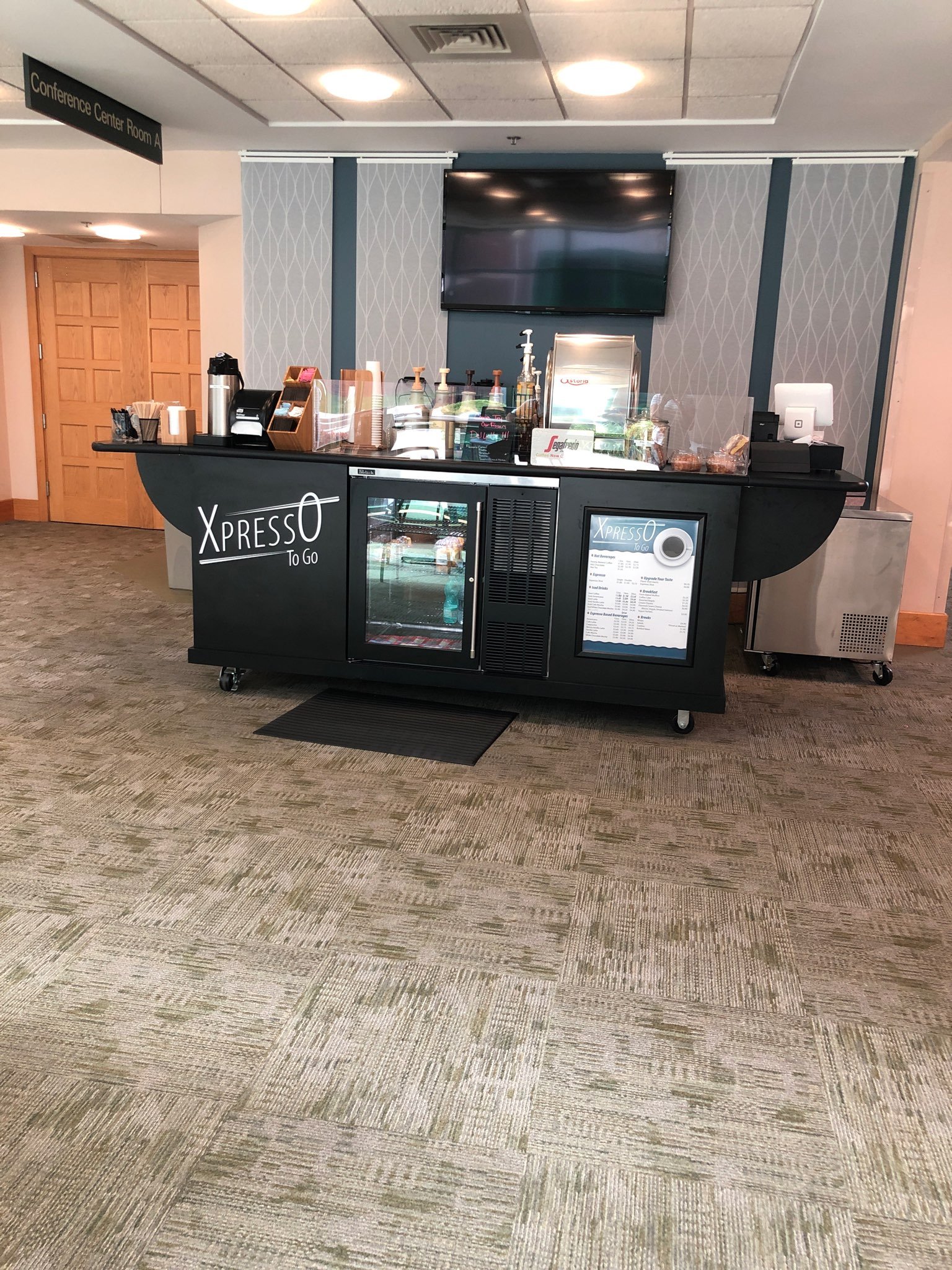 This espresso, food service and beverage cart is has the unique design to accommodate a commercial double pass through refrigerator, shown is a Perlick line, others can be adjusted to suit. As with all of the espresso and food service cart lines, they are fully plumbed and self contained, one only needs access to a water source to fill and drain the tanks and a spot to plug in for the electrical needs.

Specifications and additional photo's added soon, this is one of our newer lines and it's proven to do extremely well and has made a huge impact already.

It has an 11 foot counter that folds down to 8', 33" depth for easy access through smaller door ways, reinforced in addition to the norm for the open area for the pass through refrigerator and a non nonsense, easy to use plumbing system. This is meant for business and a wide variety of food service accommodations.


Mspec Food Service and Beverage Cart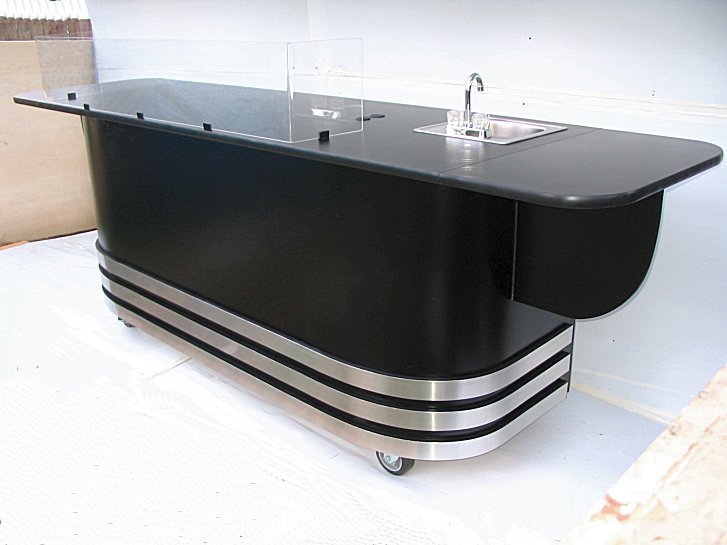 This particular design is also set up to handle both a commercial refrigerator as well as freezer with a combined capacity of over 12 cubic feet. The storage section has robust, removable, adjustable shelving as well. We've also tucked in the 3 compartment sink underneath the hand sink on drawer slides so it can slide out of the cart as needed, freeing up valuable merchandise space.
These are just some of the features:
8' by 3' counter with 2, 18" extensions giving you 11' of counter space

6' Plexiglas sneeze guard

All locking doors

Commercial, fully laminated high density plywood core and composite construction

Industrial Col-son Castors and aluminum base frame for ease of mobility

1 hand sink, 1, 3 compartment sink

Flojet pump

2.5 gallon water heater

2, 7 gallon waste water tanks
Click here for the spec sheet.
6 foot version.
| | |
| --- | --- |
| | |
| | |
| Shown with removable shroud. | Shown shroud placed on counter. |
| | |
The Smoothie - Espresso - Food Service Cart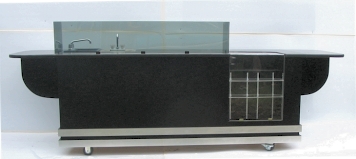 This line of smoothie food service cart is based upon the Classic Espresso Cart line with some extra's. Expanding upon this design is a recessed, removable Plexiglas covered built in display case with 2 adjustable shelves and double tier aluminum sheet metal surfaced trim.

These are just some of the features:
8' by 3' counter with 2, 18" extensions giving you 11' of counter space

6' Smoked Plexiglas sneeze guard

All locking doors

Commercial, laminated high density plywood core construction

Industrial Col-son Castors and solid base frame for ease of mobility

Flojet water pump

2.5 gallon water heater

1 hand sink, 1, 3 compartment sink

2, 7 gallon waste water tanks
Latest revision along this line includes an undercounter slide out sink as well as a lighted display section and stainless steel 3 compartment sink configuration: